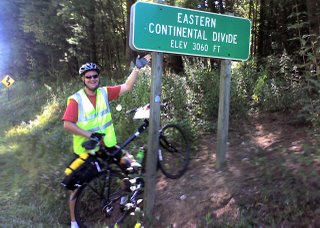 I finally got all of the pictures posted from Cycle North Carolina. I posted a handful of stories from Day 1, but trailed off after that. To be honest, as we hit the middle of the state, the terrain became a lot more familiar and felt a little less spectacular. Also, despite all the great folks we met along the way, there wasn't another Wild Woody's or Clifford O'Dell to be found. Most certainly, they're out there. They just didn't happen to appear on our path.
The trip had a lot of highlights in the 505 miles...
absolutely amazing people riding the event
3300 feet of climbing on Day 1
40 mph descents after all that climbing
some pretty decent wine in the Yadkin Valley, and awfully good beer from Natty Green's in Greensboro
vast wide-open skies with the most amazing clouds for miles and miles
an unparalleled greeting in Oak Ridge with the kids from Oak Ridge Elementary out by the road cheering us on
the story of Glencoe Mill and the history of North Carolina mill villages
SPEVCO and the "what the...?!?!" feeling I got when seeing them
the welcome signs from the kids from South Mebane Elementary
The Caddy Limo parked in front of a trailer with a "Gas Grass or Ass..." bumper sticker
the open-field screening of Breaking Away
holding on to the back of a line of great folks who pulled me in the last 30 miles of my first english century
hitting the 100 mile mark on the bridge over Albemarle Sound
And, finally, here are the pictures...